Transform Your Bishop's Stortford Home with Aluminium Doors
Aluminium doors are an unchallenged choice for your Bishop's Stortford home improvements. They will enhance your property with better security, excellent efficiency and a long-term, high-quality entrance.
Our aluminium doors are custom made to meet your every requirement, advocating the ideal choice for both new installations and as replacement doors in your property.
There are so many reasons for choosing aluminium doors for your Bishop's Stortford home improvements and Dunmow Bi-Folding Doors are double glazing installation experts, meaning you will benefit from the perfect fit.
Read our guide to aluminium doors to see the benefits and features our custom made sliding doors can offer for your property renovation.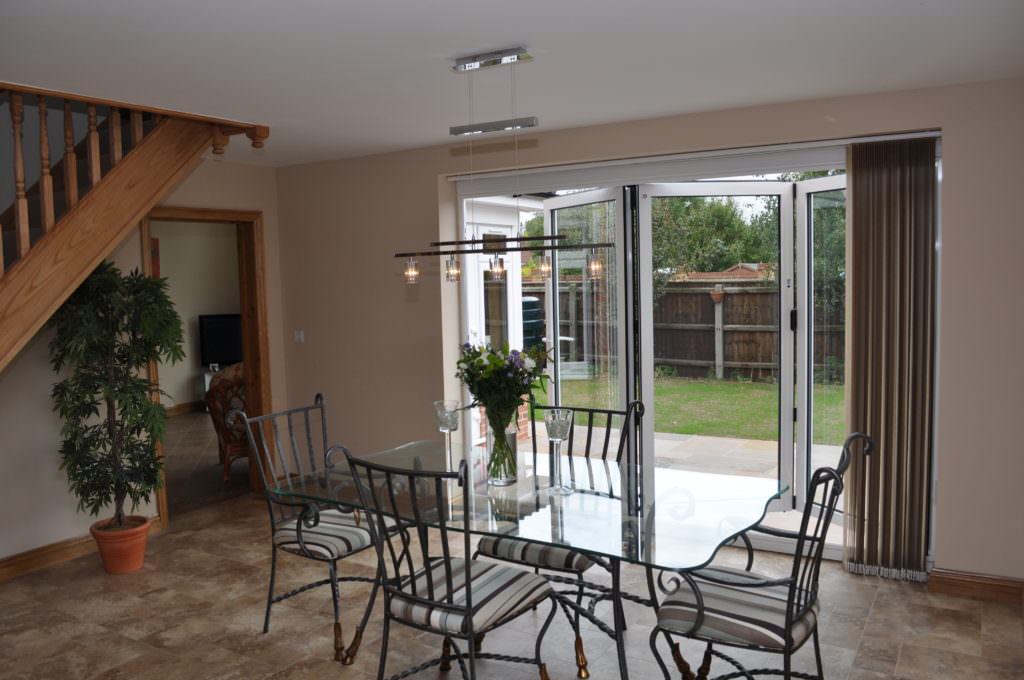 Aluminium Doors that Enhance Your Lifestyle
Enjoying your Bishop's Stortford home and the garden is so much easier when you choose our aluminium doors. These innovative sliding doors will open your home, to create one vast living space.
You will benefit from a seamless connection between the indoors and the outdoors, ideal for barbeques, social gatherings and so much more.
Your free time can be used in any way you want, as our aluminium doors are even low maintenance too. These impressive bi-folding doors require just the occasional cleaning routine to keep them performing at optimum levels and looking as good as new.
Aluminium Doors for Any Home
Aluminium doors are the ideal choice for creating an accessible home. Our range of doors is popular with trades and homeowners alike, as we offer a range of options to make these doors safe and easy to use.
Our aluminium doors come with a standard 31mm threshold, or you can opt for an ultra low 15mm threshold with ramps for seamless entry. These robust and durable thresholds are the perfect option for wheelchair users and people with mobility difficulties.
If you are a builder or double glazing installer working on a new build development, then these doors are the perfect solution for Part M compliance.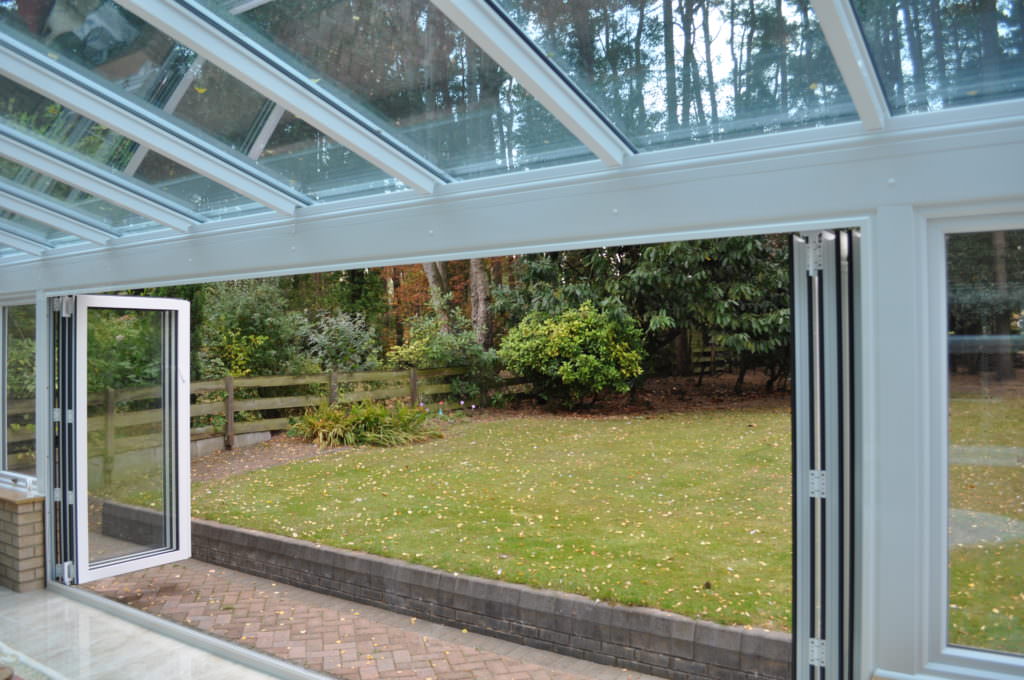 Protect Your Bishop's Stortford Home from the Elements with Aluminium Doors
Aluminium doors are impressive when it comes to all-around performance, and with the advanced technology in our doors. You can count on premium weather proofing and efficiency.
Our sliding doors feature the latest innovations in double glazing to ensure they will keep your home warm on even the coldest of winter days. These doors are specifically engineered to ensure cold air is kept out of your home and warm air is trapped within.
In addition to this, our doors feature state of the art EDPM rubber gaskets, so you can be confident that there will be no leaks or draughts. These amazing doors will protect your home from gale force winds, torrential rain and bitter icy conditions.
Tailored Aluminium Doors in Bishop's Stortford
One of the many benefits of choosing Dunmow Bi-Folding Doors for your home improvements is that our stunning doors are custom built to meet your requirements.
You will be able to choose the most practical configuration to meet your needs, selecting the perfect number of panels and the ideal fold configuration. Our doors can be crafted to open either inwards or outwards, and the actual opening can be positioned to the left, the right, or anywhere in between.
Each door is finished to suit your personal tastes. If you like beautiful bright colours, classical pastels or rich, traditional shades, we are sure to have the ideal option to match your requirements.
Our doors can be finished in any of the RAL colours, giving you the opportunity to create a truly unique entrance in your home. We also offer a range of hardware options too, so that your doors are exactly the way you want them to be, right down to the last detail.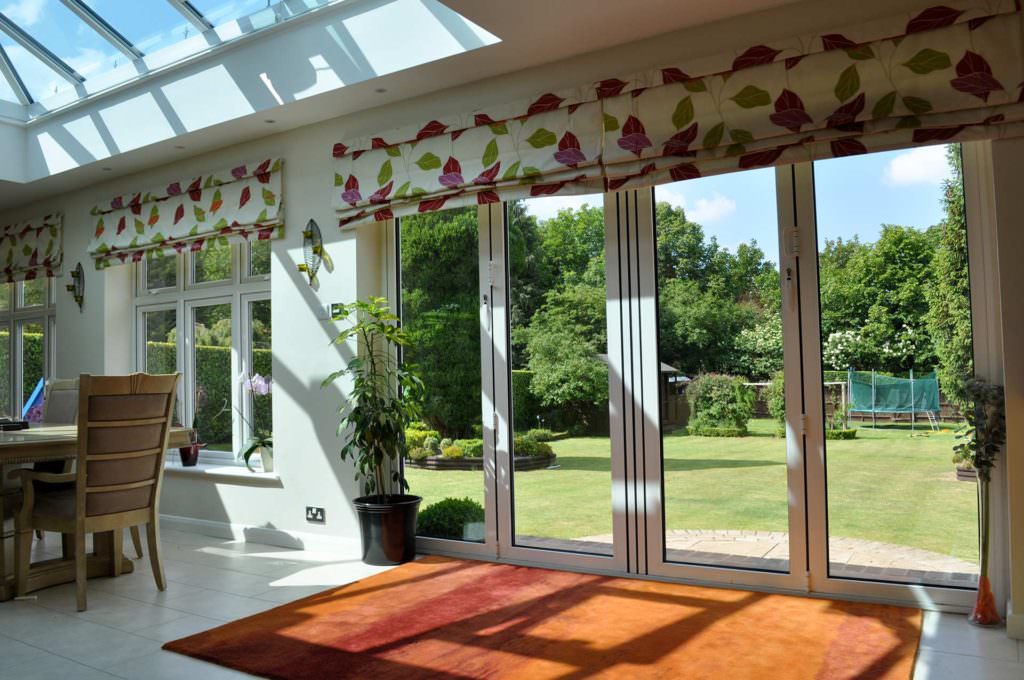 Durable Aluminium Doors
Aluminium doors are a fantastic choice for a long-lasting home improvement. The design features hard wearing and high-performance steel rollers for a smooth and effortless operation that lasts for many years.
In addition to this, the profile is naturally strong and durable. It will never warp, rot or split and the finish will never fade or discolour. Aluminium doors are a cost-effective choice for your home improvements in Bishop's Stortford because they are a truly long term installation.
Aluminium Doors Prices in Bishop's Stortford
Aluminium doors prices from Dunmow Bi-Folding Doors are tremendous. We offer a discounted rate to our trade customers, making your building projects more cost effective, and an expert design, fit and installation service to homeowners.
Undergoing a personalised quote is easy too. Use our online quoting engine for an instant guide price, or contact us for more information.