Why Choose Our Bi-Fold Doors?

Classic Appearance
Our bi-fold doors offer timeless aesthetics, which you can be tailored to complement your tastes. We offer a wide set of RAL colours for your door, and our hardware also comes in different colours. With slim sightlines and large glazed areas, aluminium bi-fold doors provide a classic appearance for all homeowners to enjoy. These doors transform a wall or a smaller door into something more practical, and far more stylish.

Perfect Functionality
These bi-fold doors are built to be robust, with a low density, high-performance profile that fits to stainless steel rollers for smooth operation. There are multiple opening configurations so you can get the style that you want. There's a low threshold design available for wheelchair users too. Finally, we offer magnetic door clips that will provide perfect functionality and stop these doors from ever slamming.

Durable
Manufactured from reinforced aluminium, our bi-fold doors are highly durable. The aluminium we use is both weatherproof and tough, designed using high-quality EPDM rubber gaskets and high-security hardware, which prevent damage being caused to the doors. Our doors are produced using highly innovative welding processes, which allows our doors to achieve a beautifully slim design throughout.
Smart Aluminium Bi-Fold Doors
We utilise the high quality aluminium profile from Smart Architectural Aluminium, who are leading manufacturers of aluminium bi-fold doors, meaning we use their high-performance, supreme quality profile to fabricate fantastic  doors for homeowners in Great Dunmow. These feature a state-of-the-art slim profile design, that utilises the latest innovative components, ensuring optimal performance from your aluminium bi-fold doors.
High-Performance Bi-Fold Doors
Our bi-fold doors are exceptional due to a balance in quality between the profile and glazing. Our thermally-efficient glass offers incredible thermal performance, while a thermally broken multi-chambered profile helps retain heat inside your home too. Your bi-fold doors will achieve incredibly low U-values from these combined assets.
These aluminium bi-fold doors offer outstanding performance without any shadow of a doubt. Their smooth opening and gliding features ensure customers are treated to leading quality bi-fold doors. We provide a variety of high-quality hardware, including bespoke handles and high-security hinges that enhance security performance and functionality.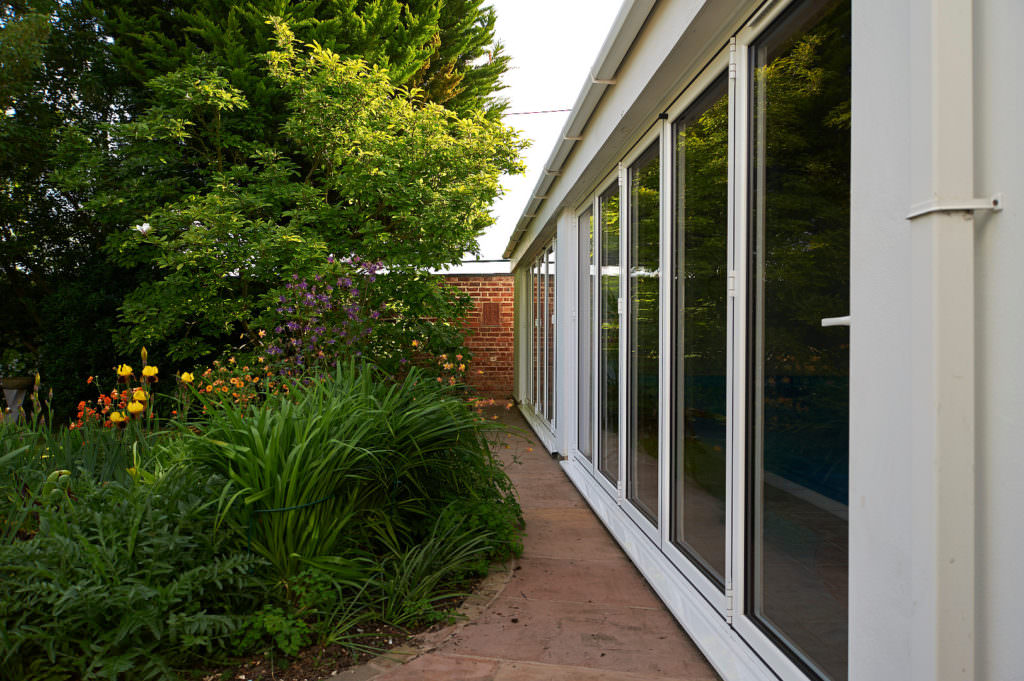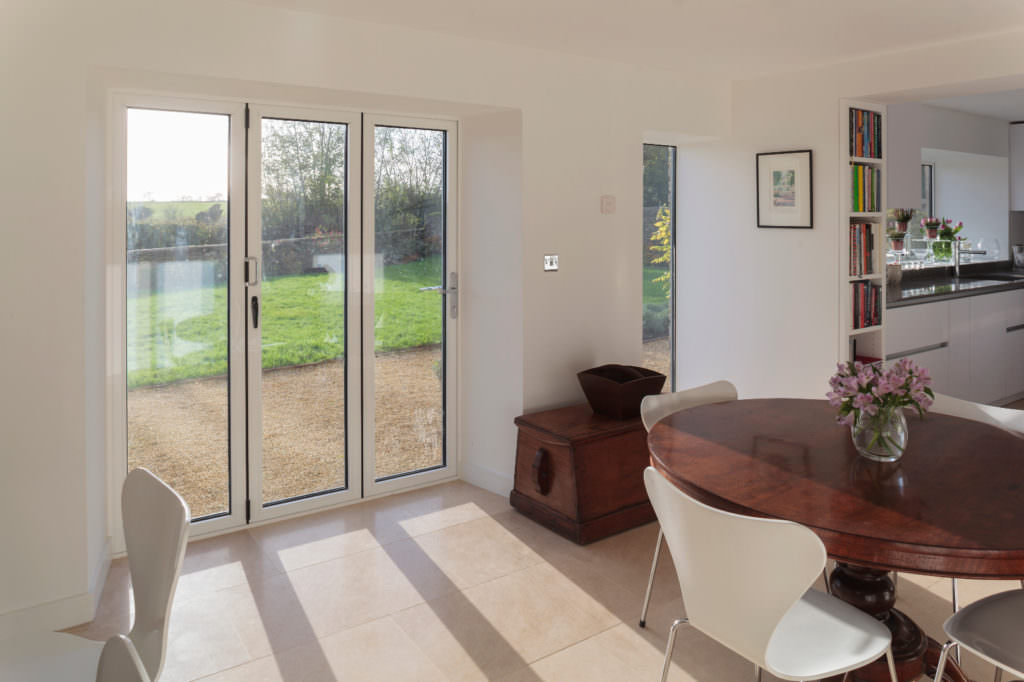 Innovative Bi-fold Doors
Our bi-fold doors are developed using the latest modern innovations in double glazing. We use reinforced high-grade aluminium to bolster security while maintaining its sleek aesthetics. We fit our doors with multi-point stainless steel locks to enhance security further.
Our innovative designs require little maintenance over time, benefitting from a high-quality aluminium profile that offers timeless aesthetics to Great Dunmow properties. Its innovative versatile design also means that you can enjoy your bi-fold doors all year around.
We offer a highly innovative design which allows multiple folding configurations, meaning you fold them inwards or outwards, and have some sashes closed while others are open. You can choose where you would like to have the main opening sash as a bespoke feature.
Colours
Bi-fold doors combine performance with classic design. We offer a striking set of colours from RAL to tailor your doors to blend seamlessly with other existing features in your home. Our high quality paints include a 'Traffic White', 'Brown Beige', 'Emerald Green' and plenty more.
These colours are the best matches available on the market, ensuring you achieve the perfect finish home improvement. Our high-quality paints will also never fade, scratch, or discolour, ensuring our bi-fold doors never require repainting to maintain their aesthetic.
Low Maintenance
You'll enjoy plenty of remarkable benefits that our aluminium bi-fold doors bring, none more so than its low maintenance properties. Smart's high grade aluminium is so secure and robust, it will never damage, ensuring time and costs of labour is kept to a bare minimum.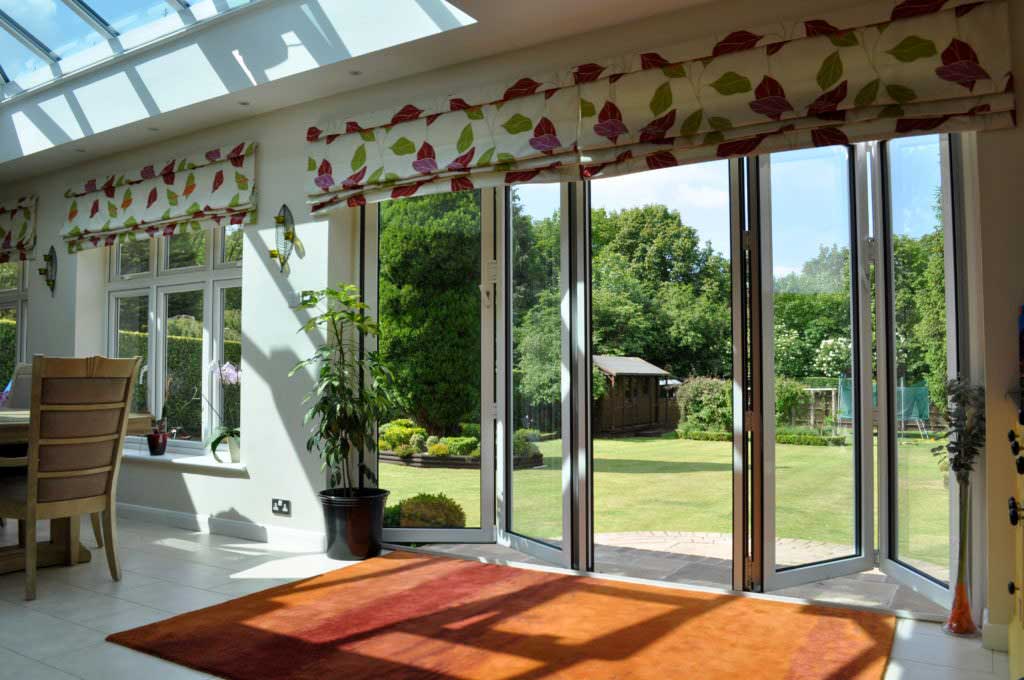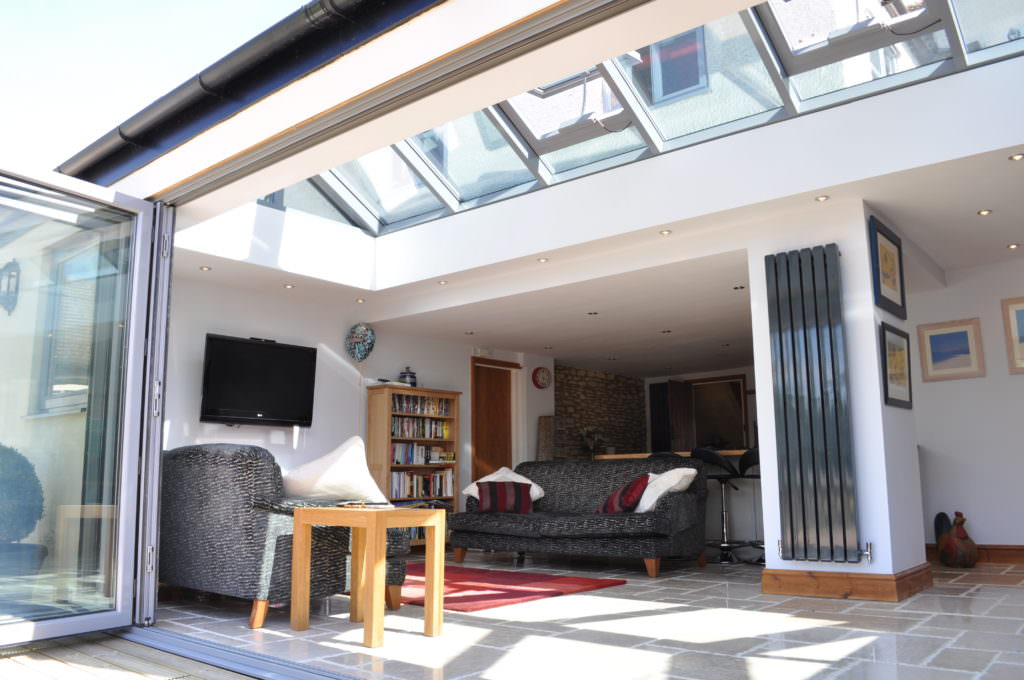 Bi-Fold Doors Prices Great Dunmow
Our high-quality products can all be found at our online quoting engine. Our bi-fold doors prices are extremely competitive, so tailor your quote today!
If you wish to speak to a member of our team, we are always happy to help in any way we can. Please visit our online contact page and fill out the quick form and our team shall contact you shortly.
"From the beginning to the end, Tom was really helpful, professional and a pleasure to deal with. He explained all the options, showing examples of past work, and the different types of products available (and even showed me the difference in the look on my own street). He priced different options and didn't pressure me to buy anything I didn't want to, giving me time and space to think it over. The price was very reasonable and the workmanship to a very high standard. I would definitely recommend."
- Customer in Braintree
"From the day of Inspection/quote to completion we were very impressed with their workmanship, courtesy, tidiness and helping to make the project go so smoothly. Highly recommend them. Great job."
- Customer in Bishop's Stortford
"Dunmow helped me out after I was let down managed to turn the job around very quickly. The job looks great and the customer is very happy, I will be using them for all my home improvements from now on."
- Customer in Braintree
"From the outset, the level of service, guidance and professionalism provided was amazing. The finished result is outstanding and my partner and I who are both perfectionists ourselves are highly impressed with the quality of the work carried out! Our experience with Dunmow was 100% positive and we struggle to find any negatives what so ever. It was refreshing to deal with an honest company with quality products and staff that genuinely care about the service they give. Thank you for an excellent job!"
- Customer in Chelmsford
"Came weeks in advance to measure and price up the work that was needed, ensuring that everything was ready and correct for when the work was due to begin. Arrived precisely on the agreed time. Got straight on with the work, was polite and courteous. The door was fitted beautifully and would happily recommend to anyone looking for new doors."
- Customer in Dunmow