Incredible Aluminium Bi-Fold Doors in Chelmsford
Aluminium bi-fold doors are the ultimate Chelmsford home improvement. You can create a stunning feature in your home with a wall of glass that glides back to open your property to the outdoors.
These stunning sliding doors create a spectacular entrance to your garden, and thanks to the innovative design and advanced technology, they are high performance, improving the qualities of your home too.
Dunmow Bi-Folding Doors are specialists in these incredible sliding doors, making us one of the most popular double glazing installers in the area. Aluminium bi-fold doors are the must-have double glazing installation of the 21st Century, and as experts in their fitting, we are perfectly placed to offer you the quality and standards you expect from your home improvements.
Read our guide to aluminium bi-fold doors in Chelmsford and discover the great features these doors offer for your property and lifestyle.

Transform Your Living Experience with Aluminium Bi-Fold Doors
Aluminium bi-fold doors in Chelmsford will transform your experience of your home and your lifestyle.
You can organise wonderful gatherings for family and friends that flow between your home and garden thanks to the seamless connection created with our bi-fold doors. When they are folded back, taking up just an inch or so of space, your property will be completely open to the outdoors.
Perhaps you enjoy simply relaxing in the garden on sunny days, and want easy access that brings the outdoors in, again, aluminium bi-fold doors are the perfect choice. With aluminium bi-fold doors, you will benefit from a whole host of lifestyle opportunities that no other home improvement can provide.
Thermal Performance from Our Aluminium Bi-Fold Doors
As much as it's lovely to open your home up on sunny days, it also needs to be cosy and warm in the winter.
Our aluminium bi-fold doors in Peterborough simply excel when it comes to energy efficiency, protecting your home from the cold on even the most bitter winter days. Our sliding doors feature thermally focussed glass as well as a polyamide thermal barrier in the frame. They work together to create superior energy efficiency, minimising heat loss and ensuring cold air can't enter your home.
These state of the art aluminium bi-fold doors retain heat so well, that you will find you need to use less of your central heating to maintain a comfortable temperature, which will result in improved energy bills.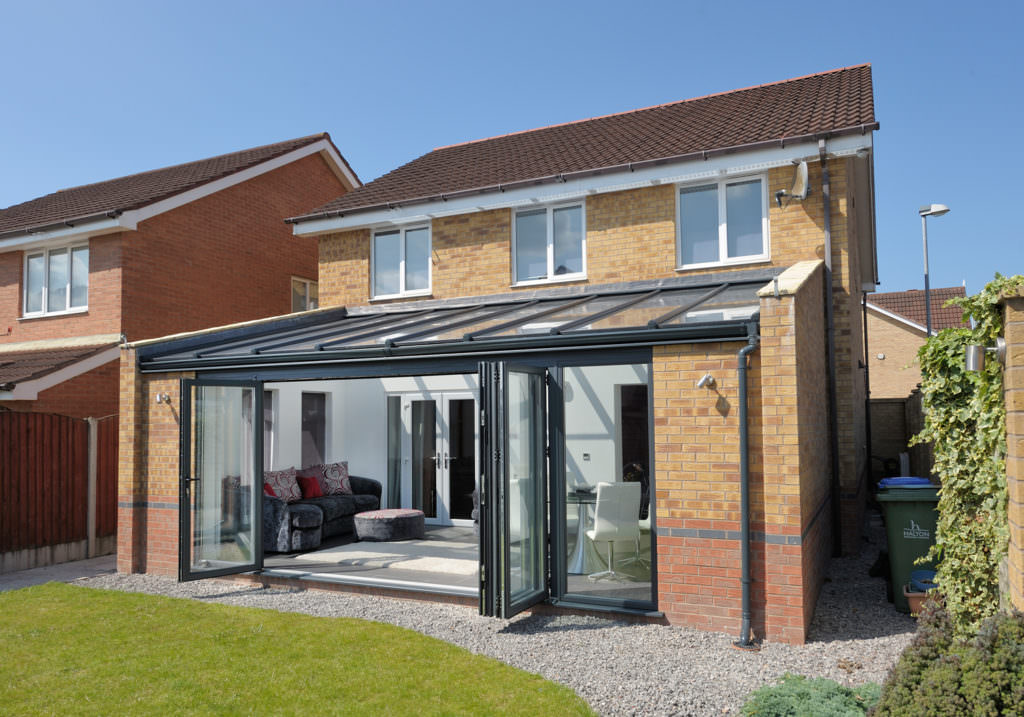 Keep Your Home Secure with Aluminium Bi-Fold Doors in Chelmsford
A vital function of any door in your home, is to protect your family and property from unwanted visitors. Aluminium bi-fold doors are a brilliant choice for security. First of all, aluminium is the most impressive material. It is inherently strong and rigid, ensuring that your new sliding doors will be able to withstand any physical attack.
This natural performance is enhanced by our cutting edge, high security locking mechanisms. We fit stainless steel multipoint locks as standard on our bi-folding doors to ensure maximum protection.
Technology for Long-Term Performance with Aluminium Bi-Fold Doors
Our sliding doors are exceptional, and every detail is taken into consideration in their design and manufacture. This includes the mechanics of the opening system as well as the standard hardware. Our aluminium bi-folding doors have tough stainless steel roller systems for smooth operation that is durable and robust.
In addition to this, we offer a range of hard wearing thresholds, which include ultralow options. These can be fitted with ramps for easy wheelchair access, giving complete accessibility for all, and making your doors Part M compliant. Our aluminium bi-fold doors in Chelmsford are brilliantly protection against harmful weather conditions too. Safeguard your property against torrential rain, gale force winds and winter snow. Our exterior aluminium doors are fitted with innovative EDPM rubber gaskets, ensuring that there will never be any leaks or draughts whatever the weather.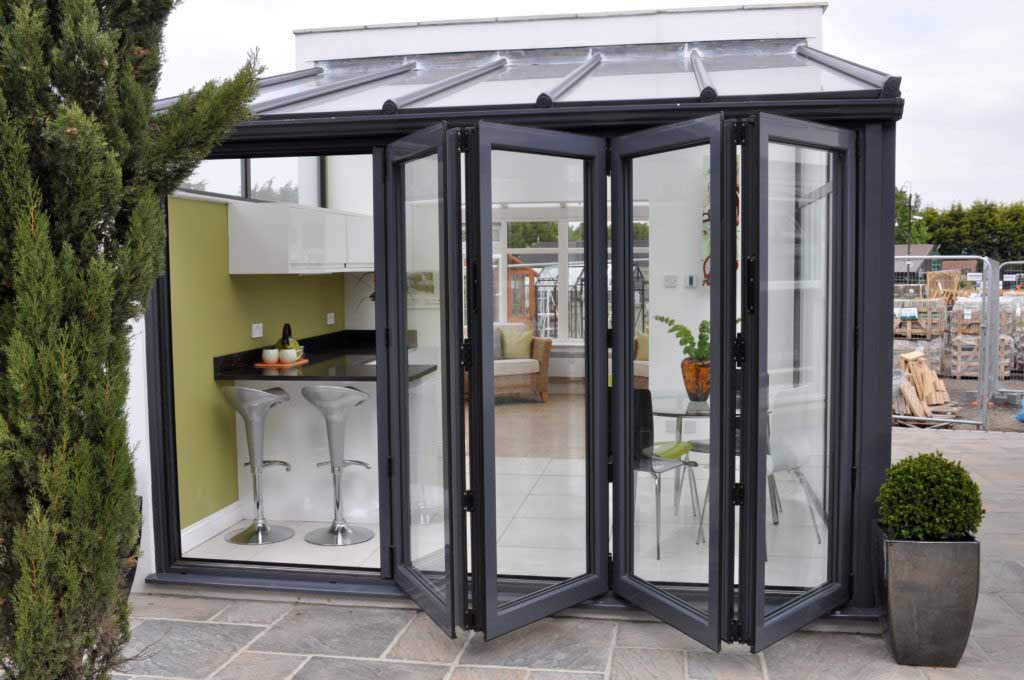 Aluminium Bi-Fold Doors in Chelmsford Styled to Suit You
Our aluminium bi-fold doors are incredibly flexible, ideal for any space in your Chelmsford home. You can opt for the perfect fold configuration to create a practical entrance, as our doors can open from the left, the right, or anywhere in between.
We offer a selection of handles and hinges for you to choose from for tailored style.
Where you can really personalise your new sliding doors however is in the colour finish. We have a variety of options from the modern and funky Traffic Purple to the classical British colour Bottle Green and all that's in between.
Aluminium Bi-Fold Door Prices in Chelmsford
Our aluminium bi-fold doors prices in Chelmsford are fantastic, offering great value for money. Why not get your free quote?
Either visit our online calculator or contact us for personal advice and assistance. We would love to hear from you.