Aluminium Bi-Fold Doors Cambridge
We fit beautiful aluminium bi-fold doors in Cambridge homes and surrounding towns.
Why Choose an Aluminium Bi-Folding Door for your Cambridge Home?
With a host of benefits, aluminium bi-fold doors are an exceptional addition to your Cambridge home. Adding significant value to your home, bi-fold doors are a modern enhancement. For high levels of energy efficiency, as well as offer advanced security and internal strength, you can enjoy your aluminium bi-fold doors for years to come.
The contemporary design uses robust aluminium frames with reinforced panels. This allows for a stylish yet sturdy door. Additionally, with slim sightlines, the aluminium doors are discreet yet make a statement. The locking system is market-leading in its security to keep you safe at home.
Here at Dunmow Bifolding Doors, we offer a bespoke service for homes in Cambridge. With over twenty years' experience in the industry, we have a wealth of knowledge and skill that we bring to each project. We offer aluminium bi-fold doors manufactured to the highest level as quality is incredibly important to us.
Long-Lasting
Aluminium is a material favoured in the industry for its long life span. The structural integrity means they can withstand force and unpredictable weather without damage. The slimline frames are exceptionally durable despite appearing slender.
The longevity of the aluminium bi-fold doors is apparent even with little maintenance. Requiring little upkeep, you won't have to dedicate all your time to caring for your new product. Simply wipe down the glass and framework every so often for doors that will last for decades.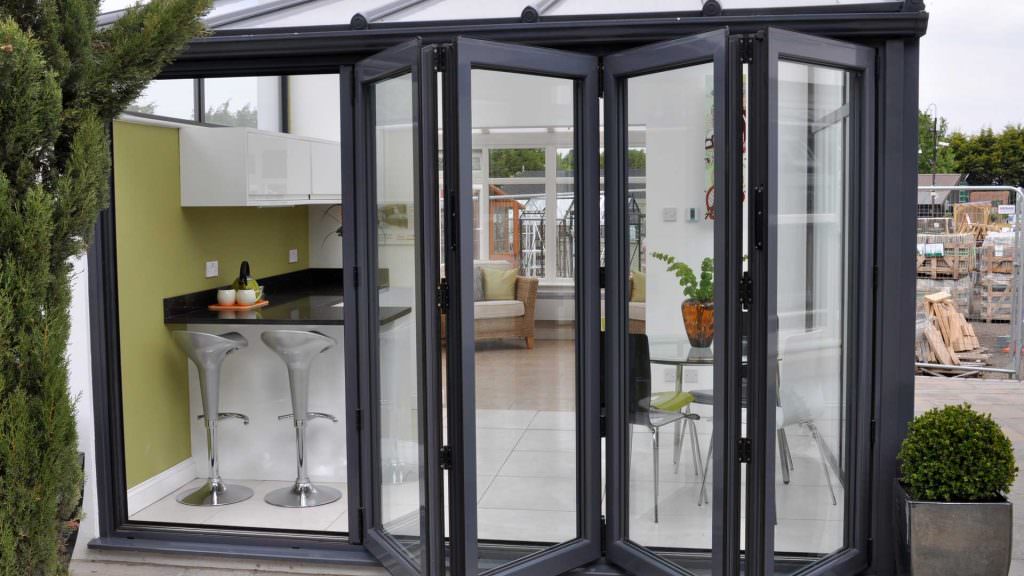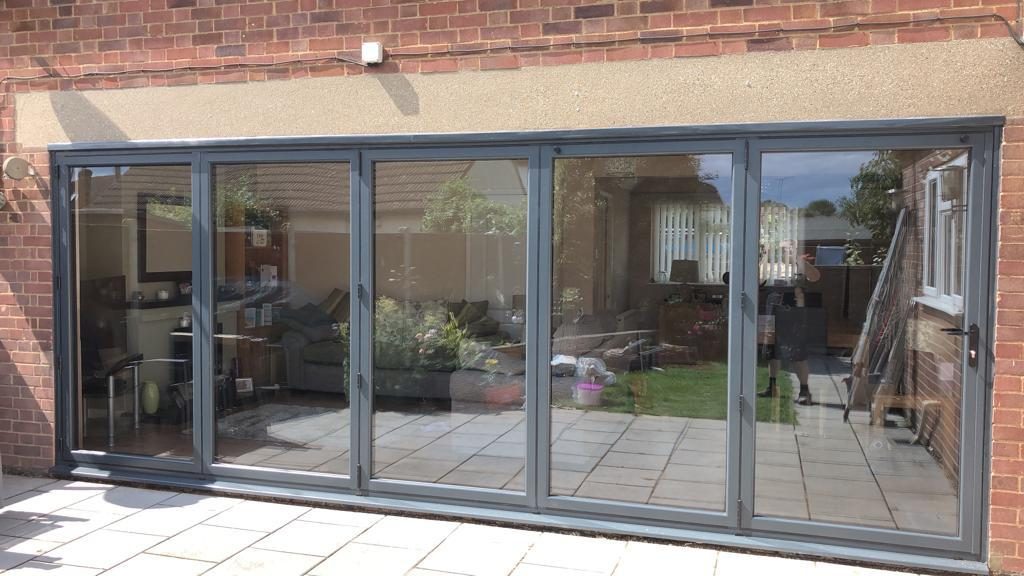 Double Glazing
Aluminium bi-fold doors are an excellent way to keep heat in your home while still benefitting from an increase in light. The exceptional double glazing we use in our doors is thermally focused to keep you comfortable in your Cambridge home.
The double glazing works by regulating the temperature in your home. This ensures you won't get too hot in summer or too cold in winter. By trapping a pocket of air in the glass panes, the aluminium bi-fold doors act as a barrier to keep your house at optimum temperature.
Energy Efficient
Maintain a comfortable temperature all year round with our aluminium bi-folding doors. The slimline frames are designed with the highest-grade aluminium, which stops draughts from seeping in. With a sealant lining the profiles, you can enjoy your home free from cold winds.
As you rely less on your heating, you will start to see your energy bills drop. This is beneficial not only for your wallet but for the ecosystem. Your carbon footprint will begin to decrease for a fundamentally positive impact on the environment.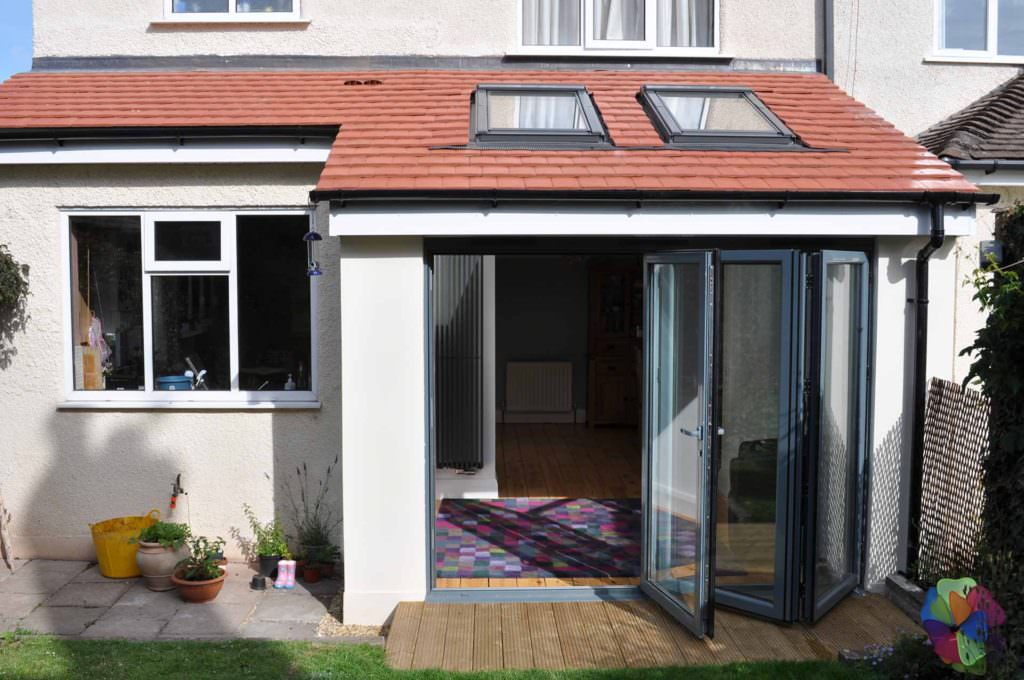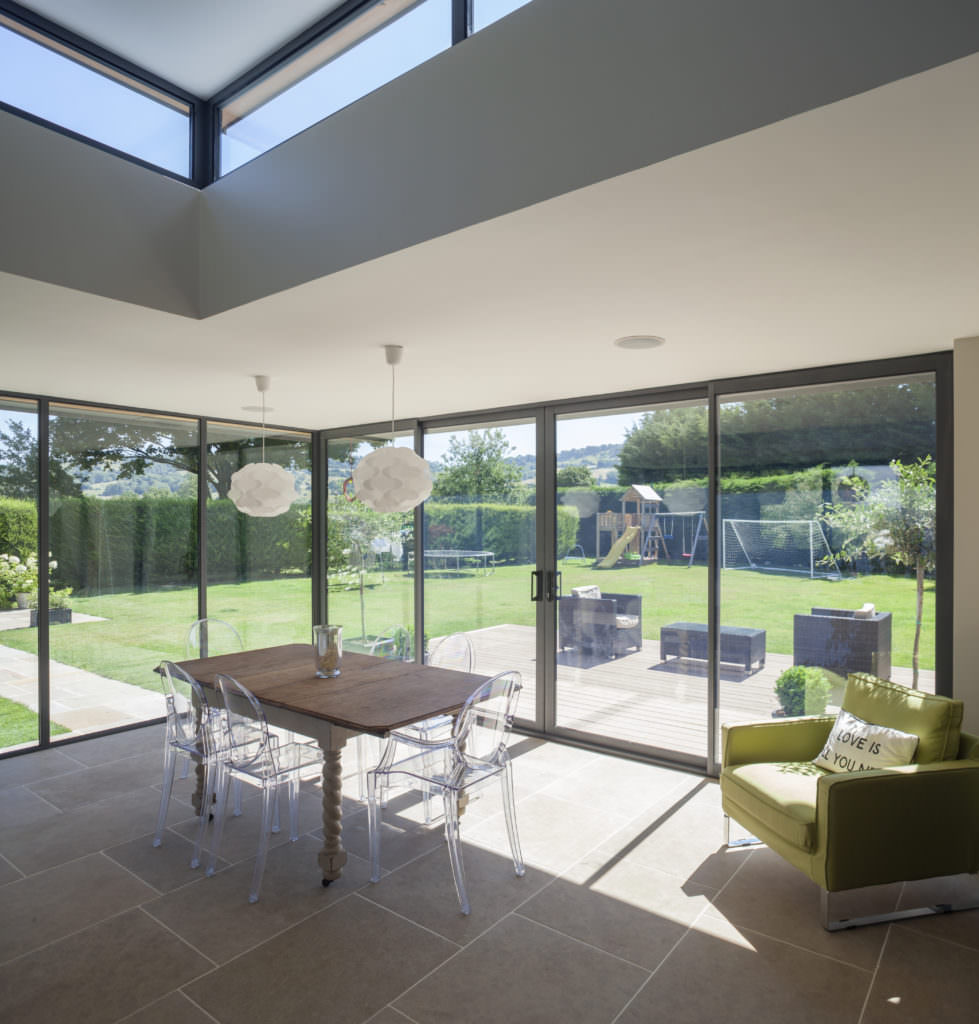 Tailored to You
Our aluminium bifold doors, along with the rest of our stunning range, can be customised to suit your preferences. We offer a range of stunning RAL colours for you to explore. This gives you full creative freedom in designing your dream doors.
The hardware is down to you to decide. We offer beautiful handles in either white, chrome or black for a modern look to your home. The hinges can be customised in either black or white, so every detail is your decision. For traditional or contemporary properties in Cambridge, we can cater to you.
You can even decide the layout of your aluminium bi-fold doors. With multiple operation functionalities, you can decide how you use them. You can opt for either inward or outward opening and can choose to discretely move them to the left or right.
Why Choose Dunmow?
Here at Dunmow Bifolding Doors, we are experts in the home improvement industry. Our specialist knowledge and skill have secured us as market leaders.
Our hassle-free service involves quote, design and installation, keeping our Cambridge customers at the forefront of our work.
We have various accreditations that ensure we are a reliable company. We are full members of Certass, who ensure that a quality service is executed.
Following your installation, you will receive a certificate from Certass meaning the aluminium bi-fold doors reach their requirements.
Not only do we design and fit in homes, but we also supply to the trade. Builders requiring an efficient service for fantastic aluminium bi-fold doors can rely on Dunmow.
We also offer a 10% discount for our trade customers.
Aluminium Bi-Fold Door Prices Cambridge
Each project is made to measure for our Cambridge customers. From the style to the colour, every decision is down to you. As our aluminium bi-fold doors are bespoke, prices vary based on your preferences.
Get a free, non-obligatory quote today. Use our handy online tool to see our prices. Just input your style options and specifications, and we'll do the rest!
We'd love to hear from you to see how we can improve your Cambridge home. Use our contact form to ask us anything, and we'll get back to you as soon as we can.
Alternatively, give our office a call on 01245 956371, and one of our team will answer your aluminium bi-fold door queries.
"From the beginning to the end, Tom was really helpful, professional and a pleasure to deal with. He explained all the options, showing examples of past work, and the different types of products available (and even showed me the difference in the look on my own street). He priced different options and didn't pressure me to buy anything I didn't want to, giving me time and space to think it over. The price was very reasonable and the workmanship to a very high standard. I would definitely recommend."
- Customer in Braintree
"From the day of Inspection/quote to completion we were very impressed with their workmanship, courtesy, tidiness and helping to make the project go so smoothly. Highly recommend them. Great job."
- Customer in Bishop's Stortford
"Dunmow helped me out after I was let down managed to turn the job around very quickly. The job looks great and the customer is very happy, I will be using them for all my home improvements from now on."<br />
- Customer in Braintree
"From the outset, the level of service, guidance and professionalism provided was amazing. The finished result is outstanding and my partner and I who are both perfectionists ourselves are highly impressed with the quality of the work carried out! Our experience with Dunmow was 100% positive and we struggle to find any negatives what so ever. It was refreshing to deal with an honest company with quality products and staff that genuinely care about the service they give. Thank you for an excellent job!"
- Customer in Chelmsford
"Came weeks in advance to measure and price up the work that was needed, ensuring that everything was ready and correct for when the work was due to begin. Arrived precisely on the agreed time. Got straight on with the work, was polite and courteous. The door was fitted beautifully and would happily recommend to anyone looking for new doors."
- Customer in Dunmow