Aluminum Bi-Fold Doors
Great Dunmow
Full Installation Within 3 Weeks of Survey
Sleek and Stylish
Bi-fold doors are fast becoming the must-have home improvement in Braintree. They offer a range of benefits for your property, enhancing your living space in countless ways, and they are exceptionally beautiful too. With ultra slim profiles, these stunning doors provide you with an incredible view of the outdoors and will flood your home with natural light through the expansive glazed area.
Thermally Efficient
Our aluminum bi-folding doors are crafted using the latest developments in double glazing to ensure you benefit from the very best thermal performance possible. Our outstanding sliding doors have a thermally broken profile and are precision engineered to minimise cold transfer. This helps to keep heat trapped within your home and as such, you will benefit from a warmer environment for longer.
Ultra Secure
If you are looking for sliding doors which offer the maximum protection possible for your Braintree home, then our bi-fold doors are the perfect choice. The innate strength of aluminum makes these doors almost indestructible. This is then coupled with advanced locking systems, designed to offer ultimate security. Trust in aluminum bi-fold doors for your peace of mind.
Eco-Friendly Home Improvements
If you are looking for stylish and exquisite doors that also offer the benefit of being eco-friendly, then our bi-fold doors in Braintree are the ideal choice. These doors are crafted from the finest aluminium, and are designed to offer many years of quality performance. They have a smooth and effortless glide system in place and they require little maintenance to keep them in perfect condition.
What makes these sliding doors really sustainable, however, is the endless recyclability of aluminium itself. Aluminium can be recycled and repurposed countless times without ever losing any of its natural quality. It remains strong and tough and it looks stunning, no matter how many times it is recycled.
The superior thermal performance also helps to make these doors a great choice for eco-friendly home improvements, as they can help to lower your carbon footprint, minimising your impact on the world around you.If you are looking for a truly environmentally friendly sliding door for your Braintree home, then our aluminium bi-fold doors are the ultimate choice.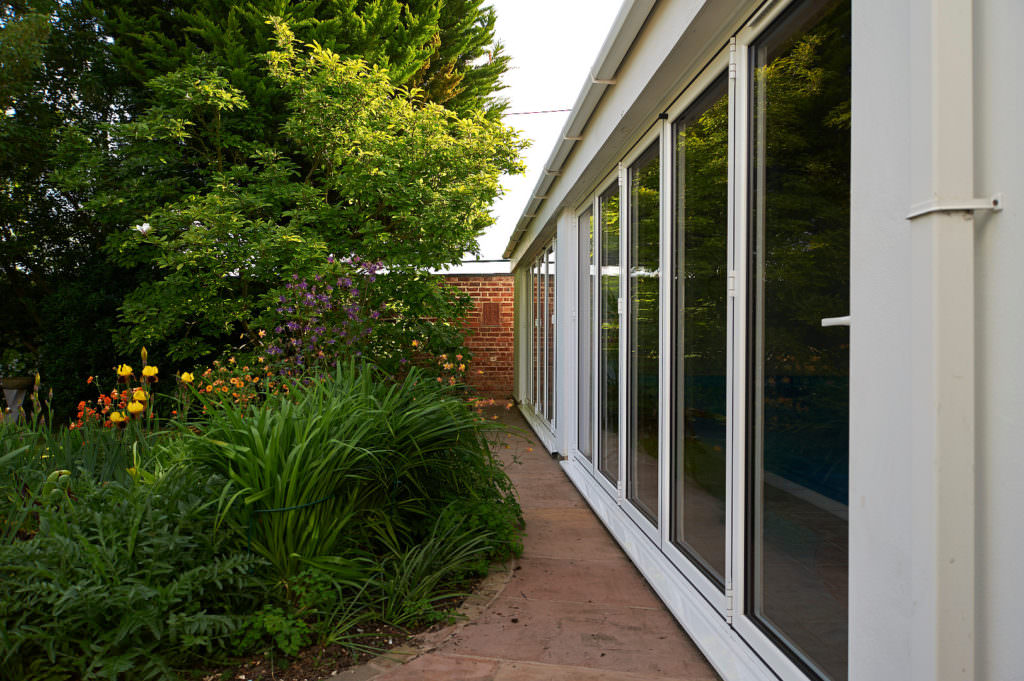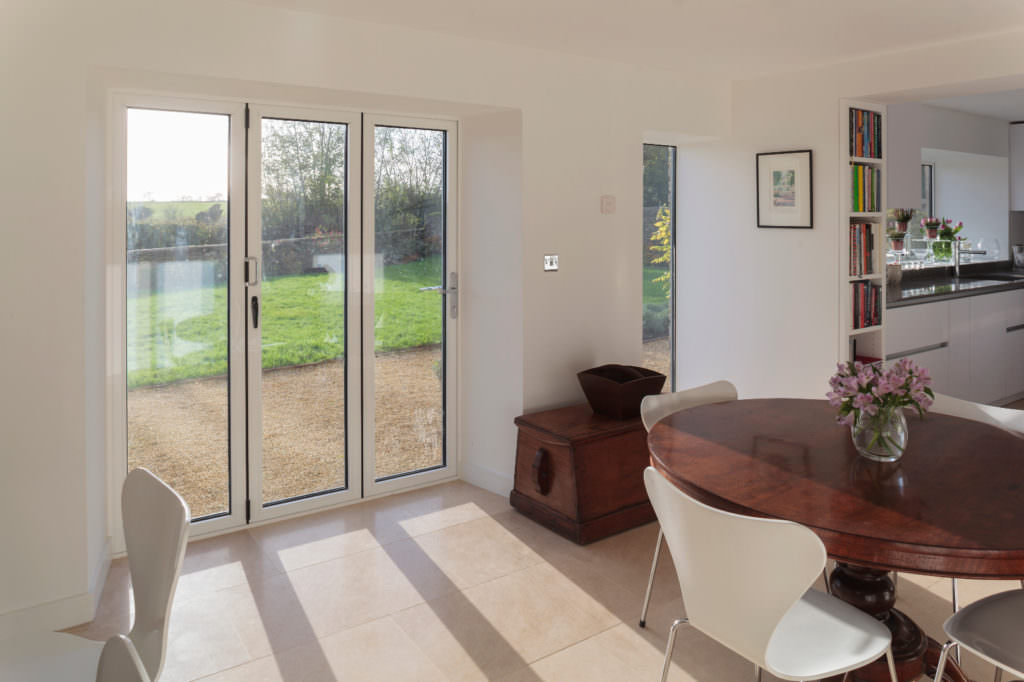 Seamless Living, Intelligent Design
One of the beautiful features of our aluminium bi-fold doors is the accessibility they offer to your Braintree garden. These doors will open up your home in an instant, creating one vast living space which combines the internal rooms with your outside area. This makes them a spectacular choice for socialising and you will also benefit from creating a practical and stylish multifunctional living space.
We offer a range of options for low thresholds too, so that you can have seamless entry to the outdoors. We can provide, if required, an ultra-low 3mm threshold which is both robust and durable, making it perfect for wheelchair users and people who need easy accessibility. Open up your home with our incredible aluminium bi-fold doors for Braintree homes and create the most breathtaking, yet practical, entrance to your garden.
Aluminium Bi-Fold Door Prices Braintree
At Dunmow Bi-Folds, we are proud to be able to offer fantastic bi-fold door prices to our Braintree customers. We work with a range of exceptional manufacturers to ensure we offer the best solution for your home improvements budget and your property style.
You can access your own tailored quote in an instant with our online quoting system. It's extremely simple to use, just enter your specifications and choices, and our intelligent calculator will create a personalised guide price for you within a matter of moments
If you prefer, you can contact us. We have a friendly team on hand who will be very pleased to help you find the perfect combination of features and finishes to complement your home and your price-range, so why not give them a call now for some further advice.
You can also book an appointment for a face to face discussion of your requirements. However you choose to get in touch, we are here to help with your new bi-fold doors, and our team is committed to acting with honesty and integrity, so there will be no hard sell from us.
"From the beginning to the end, Tom was really helpful, professional and a pleasure to deal with. He explained all the options, showing examples of past work, and the different types of products available (and even showed me the difference in the look on my own street). He priced different options and didn't pressure me to buy anything I didn't want to, giving me time and space to think it over. The price was very reasonable and the workmanship to a very high standard. I would definitely recommend."
- Customer in Braintree
"From the day of Inspection/quote to completion we were very impressed with their workmanship, courtesy, tidiness and helping to make the project go so smoothly. Highly recommend them. Great job."
- Customer in Bishop's Stortford
"Dunmow helped me out after I was let down managed to turn the job around very quickly. The job looks great and the customer is very happy, I will be using them for all my home improvements from now on."
- Customer in Braintree
"From the outset, the level of service, guidance and professionalism provided was amazing. The finished result is outstanding and my partner and I who are both perfectionists ourselves are highly impressed with the quality of the work carried out! Our experience with Dunmow was 100% positive and we struggle to find any negatives what so ever. It was refreshing to deal with an honest company with quality products and staff that genuinely care about the service they give. Thank you for an excellent job!"
- Customer in Chelmsford
"Came weeks in advance to measure and price up the work that was needed, ensuring that everything was ready and correct for when the work was due to begin. Arrived precisely on the agreed time. Got straight on with the work, was polite and courteous. The door was fitted beautifully and would happily recommend to anyone looking for new doors."
- Customer in Dunmow