Aluminum Bi-Fold Doors
Great Dunmow
Full Installation Within 3 Weeks of Survey
Premium Quality
Bi-fold doors feature tough, stainless steel rollers and a high-grade aluminium frame for secure functionality. Our products are equipped with high-quality hardware including multipoint locking mechanisms and fully-operable handles, ensuring these doors are high-performance.

Tailored to Your Tastes
We offer a comprehensive collection of beautiful RAL colours, allowing you to tailor your bi-fold doors so that they complement your home's existing architecture. We offer a full set of configurations for bi-fold doors, from stunning white, chrome, and black handles, to the number of door panels you need.

Fully Weatherproof
Our aluminium bi-fold doors provide exceptional weatherproofing performance, as the profile features high-quality EPDM rubber gaskets, and is innately waterproof. To boost the energy-efficiency of your home, we use thermally-focused glass, ensuring heat remains in your Felsted home and protected from the elements.
Felsted Bi-Fold Doors
We specialise in sensational bi-fold doors, which utilise a precision-engineered profile from leading manufacturers Smart for high-end performance. This design features an enhanced specification in comparison to standard aluminium, as the materials used are high-grade and tightly extruded for exceptional longevity.
Smart offers a sleek, highly-secure aluminium profile, which provides reduced sightlines for enhanced light exposure, without sacrificing safety. Our aluminium doors offer extensive glazing areas for a more thermally-efficient home, and furthermore, light will illuminate space around it.
Homeowners in Felsted are treated to beautiful aesthetics and enhanced space when they opt for our premium bi-fold doors. These clever doors are configured so that they can open inwards and outwards, and may be stacked fully to the left or to the right for additional space.
Our aluminium bi-fold doors provide easy functionality, equipped with magnetic door clips and positioned on stainless steel rollers on an easy glide track.  Our aluminium bi-fold doors are made from reinforced aluminium, therefore they are extremely robust under high-pressure situations.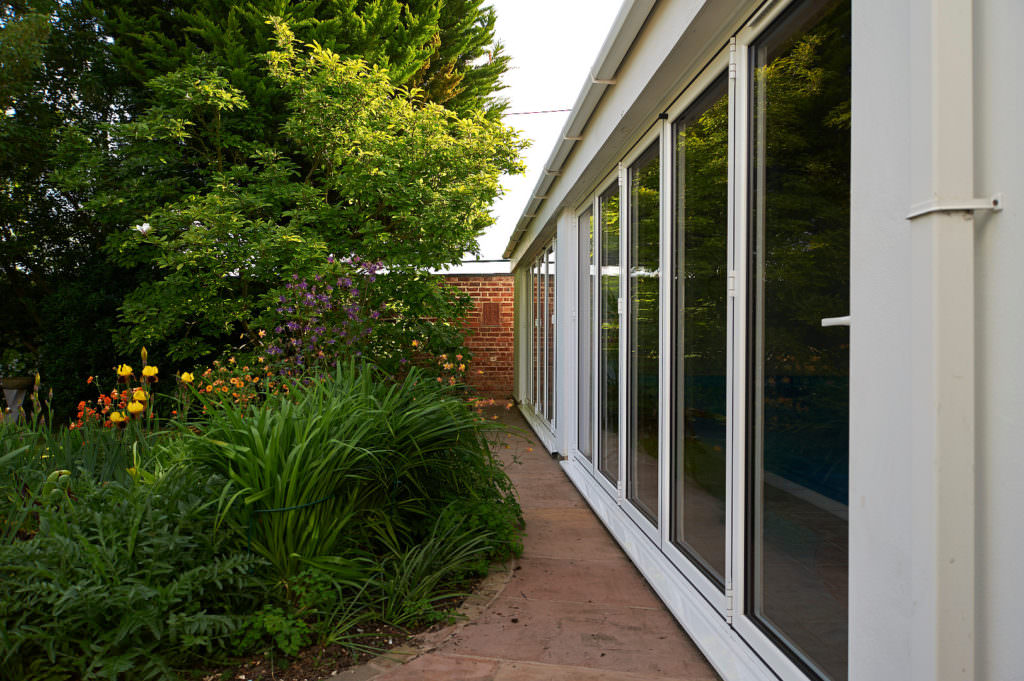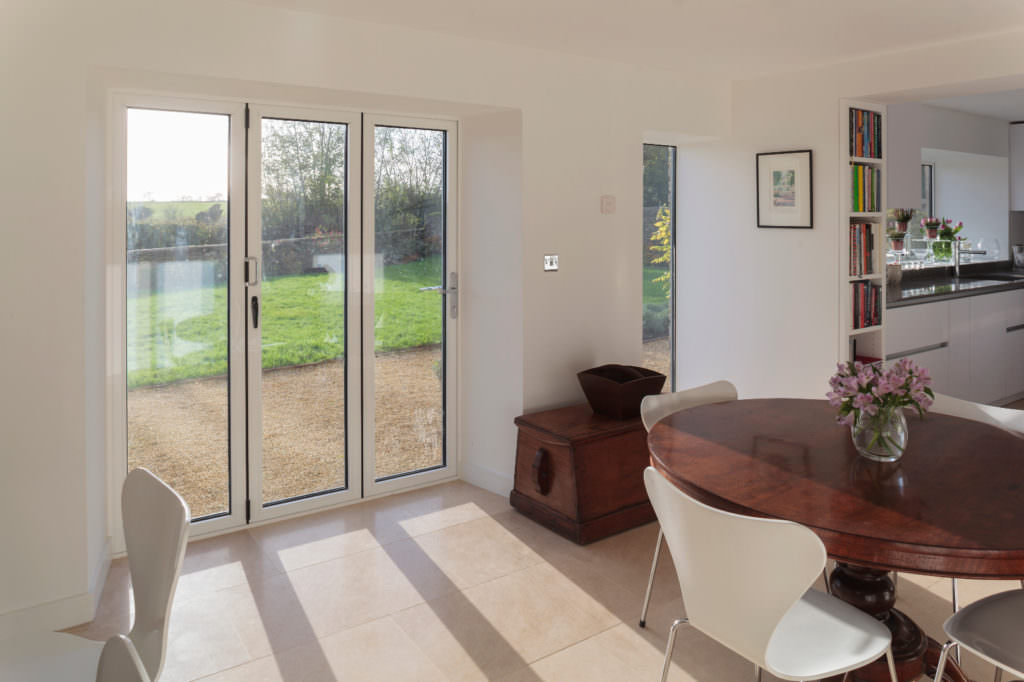 Versatile Bi-Fold Doors
Families in Felsted can benefit from bi-fold doors regardless of space, as you can configure them with as few as three leaves. These doors can be placed anywhere in the home, whether as a door to the kitchen, a front door entrance, or as a seamless transition between your home and the garden.
These incredibly versatile doors come in a range of colours and finishes, which means you can reflect your personality in your design. We offer competitive prices, so that homeowners on all budgets can enjoy our outstanding bi-fold doors.
These doors provide a contemporary, sleek aesthetic for your home, with predominantly glazed areas for maximum views and light exposure. However, they are perfectly adaptable to period homes, which we offer timber-matching woodgrain foils for.
Whether a simple upgrade or a whole new investment, our stunning bi-fold doors aim to please. With a highly durable frame and energy-efficient glazing, these are high-performance, stylish, and practical, providing an exceptional home improvement.
High-Performance Doors
Our bi-fold doors installed, and fitted throughout Felsted, offer outstanding performance, with the incredible benefits of having a high-grade aluminium profile built in from Smart. These are Secured by Design and meet the stringent standards of PAS24.
We fit the latest, innovative multi point stainless steel locks to enhance security of your doors, so that your home stays fully protected.
Our doors shall perform incredibly all year around, even during inclement weather. An intelligent design means that your home shall retain heat whilst eliminating cold draughts. When it is extremely hot, these doors allow you to open them in any setting to securely ventilate your home, allowing you to rely less heavily on air conditioning.
You'll be able to reduce use of your central heating too, and while this is the case, you'll make significant savings on your energy bills, and reduce your carbon footprint. Aluminium is recyclable, thus highly-sustainable. These aluminium doors are therefore eco-friendly and cost-effective. Most impressively, they are high-performance.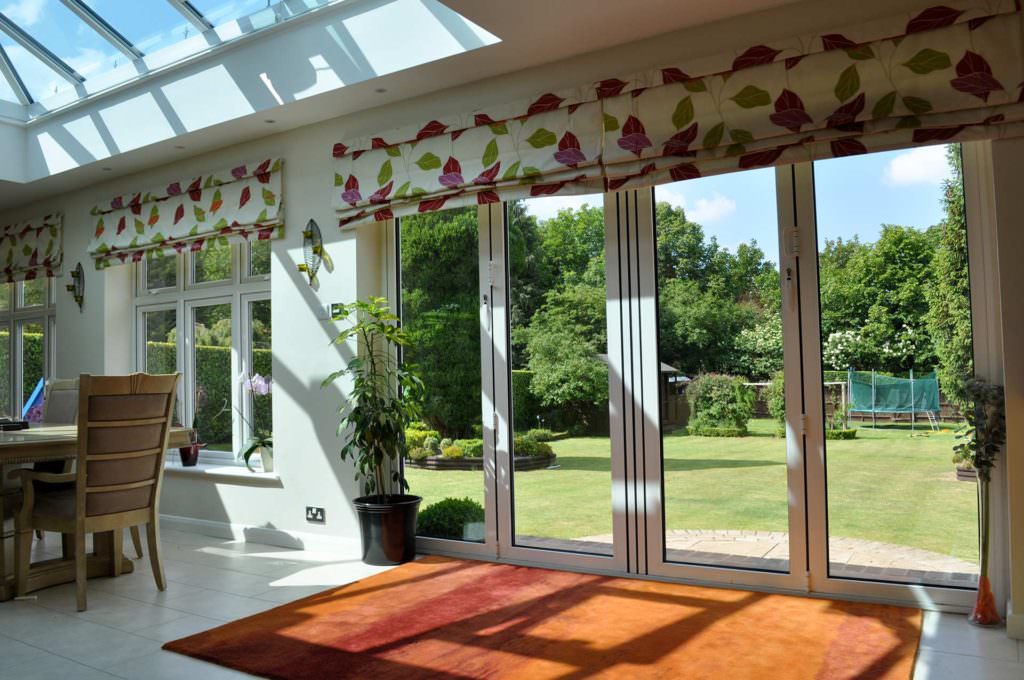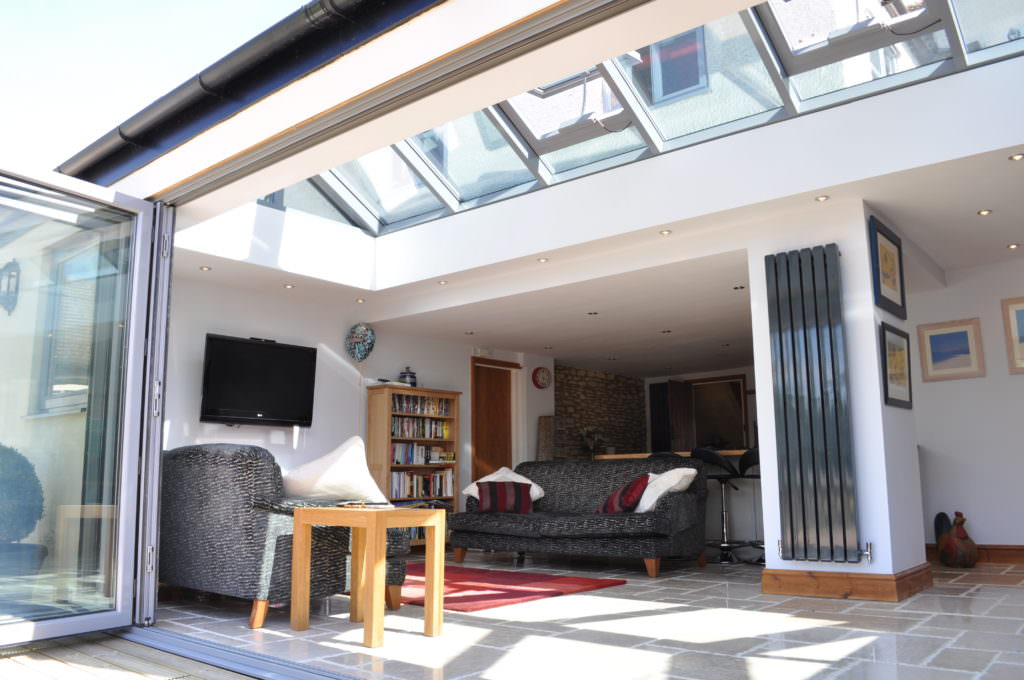 Bi-Fold Doors Prices Fensted
For more information about our competitive prices, head over to our online quoting engine, where you can tailor your quote to match your tastes and your budget.
Get in touch alternatively by using our online contact page, where you'll require to fill out a short form with your contact details, in order that we call you as quickly as possible.
"From the beginning to the end, Tom was really helpful, professional and a pleasure to deal with. He explained all the options, showing examples of past work, and the different types of products available (and even showed me the difference in the look on my own street). He priced different options and didn't pressure me to buy anything I didn't want to, giving me time and space to think it over. The price was very reasonable and the workmanship to a very high standard. I would definitely recommend."
- Customer in Braintree
"From the day of Inspection/quote to completion we were very impressed with their workmanship, courtesy, tidiness and helping to make the project go so smoothly. Highly recommend them. Great job."
- Customer in Bishop's Stortford
"Dunmow helped me out after I was let down managed to turn the job around very quickly. The job looks great and the customer is very happy, I will be using them for all my home improvements from now on."
- Customer in Braintree
"From the outset, the level of service, guidance and professionalism provided was amazing. The finished result is outstanding and my partner and I who are both perfectionists ourselves are highly impressed with the quality of the work carried out! Our experience with Dunmow was 100% positive and we struggle to find any negatives what so ever. It was refreshing to deal with an honest company with quality products and staff that genuinely care about the service they give. Thank you for an excellent job!"
- Customer in Chelmsford
"Came weeks in advance to measure and price up the work that was needed, ensuring that everything was ready and correct for when the work was due to begin. Arrived precisely on the agreed time. Got straight on with the work, was polite and courteous. The door was fitted beautifully and would happily recommend to anyone looking for new doors."
- Customer in Dunmow