Transform Your Great Dunmow Home with Aluminium Bi-Fold Doors
You can completely transform your Great Dunmow home with stunning aluminium bi-fold doors from Dunmow Bifolding Doors.
Aluminium bi-fold doors boast fantastic energy performance and security values, with an attractive style. We offer a professional supply and fit service for bespoke aluminium bi-fold doors, a beautiful wall of glass tailored to your tastes.
We even offer our sliding doors as supply-only for trade. Complete with a competitive trade discount. If you are a builder, looking for aluminium bi-fold doors at an affordable price, get in touch. 
Our aluminium bi-fold doors feature all the latest innovations in double glazing, creating a stunning garden entrance to all Great Dunmow homes.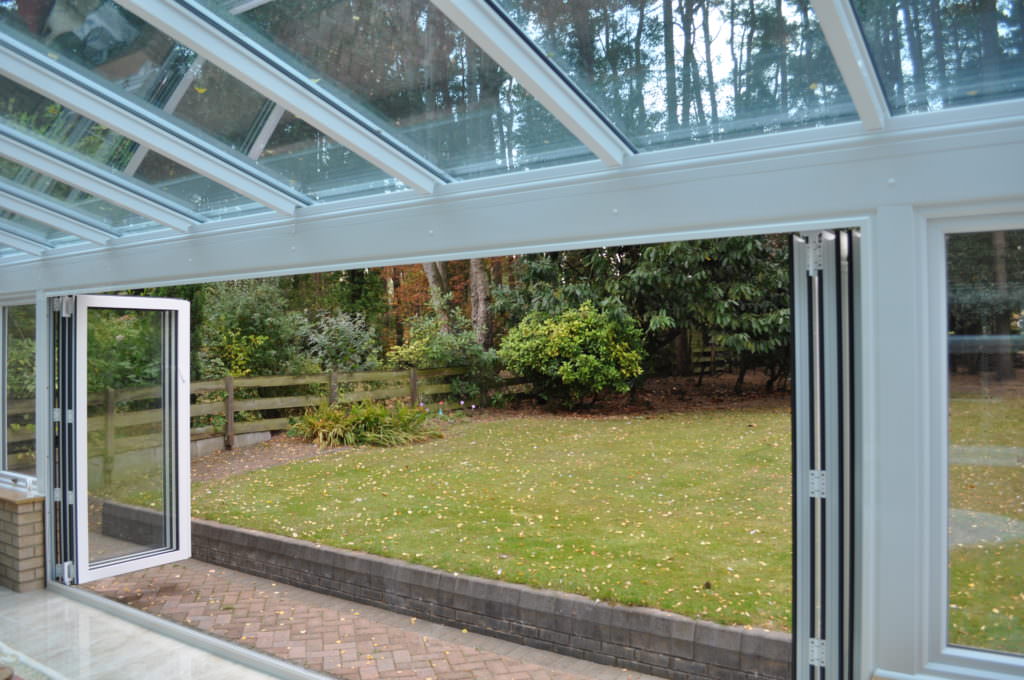 New Opportunities with Aluminium Bi-Fold Doors
Enhancing your home with aluminium bi-fold doors will create a spectacular entrance to the outdoors, and enable you to enjoy a wealth of new lifestyle opportunities.
Our aluminium bi-folding doors benefit from a completely seamless join between your home and garden, allowing you to experience a vast living space, bringing the outdoors in. We design and build our aluminium bi-fold doors to take up minimal space inside your property, using advanced hinges and a clever folding system. When closed, our aluminium bi-fold doors fold neatly back into themselves, taking up no more space than a regular door. 
These aluminium doors are available in a standard 31mm threshold, with accessible 15mm ramps. This makes them incredibly practical; the ideal opening for wheelchair users, and those with mobility difficulties.
Simple Operation from Quality Aluminium Bi-Fold Doors in Great Dunmow
Opening your home to the outside world couldn't be easier. Our aluminium bi-fold doors have a fantastic easy-glide opening system which is created with stainless steel rollers. The mechanism is constructed using precision engineering to ensure long term smooth operation.
In addition to this, our aluminium doors are tailored to suit you. They are designed specifically to make the most of the available space, helping you save money on your energy bills.
We offer a variety of fold configurations. Choose from left to right, right to left, or from any point in between. Here at Dunmow Bifolding doors, we design our exterior doors to work with your home and preferences.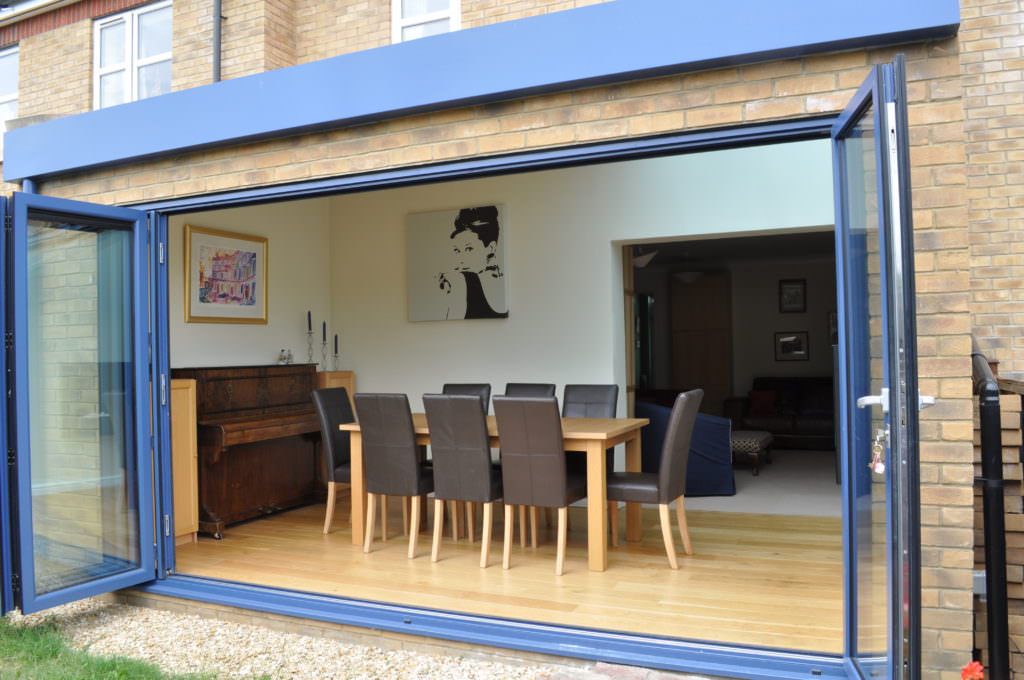 High-Performance Aluminium Bi-Fold Doors
With any Great Dunmow home improvements, you want to know that you are getting quality installations that will benefit your home.
With our aluminium bi-fold doors, you can count on superior all round performance. These incredible double glazed doors meet all of the stringent standards set by Building Regulations. The ideal choice for a warmer, more secure property.
No matter how cold it is this winter, with our aluminium bi-fold doors, you will be cosy and comfortable within your home. This is because our doors are fitted with thermally focused glazing and they use the latest technology in the double glazing industry to maximise energy efficiency.
In addition to this, they offer impeccable security. This starts with the robust profile, as aluminium is almost indestructible, making our doors superb for home protection.
We then fit them with state of the art locking mechanisms that ensure they offer the most superior levels of security, keeping you and your family safe.
Stylish Aluminium Bi-Fold Doors in Great Dunmow
When it comes to style, our aluminium bi-fold doors are far ahead of the competition. Constructed from a super slim aluminium profiles, made possible thanks to the naturally strong and stable properties of aluminium.
Our bi-folding doors are available in an attractive range of colour finishes. Whether you would like a pastel green shade to offer a charming, country feel, or a more traditional finish to blend in with the brickwork.Dunmow Bifolding doors are proud of our extensive colour range.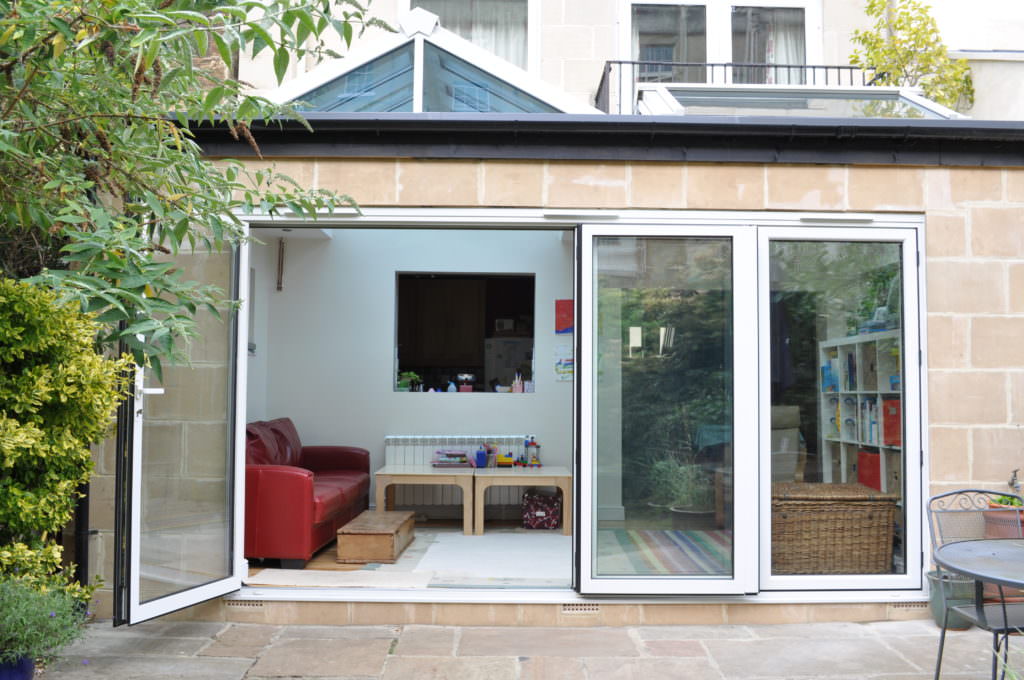 Aluminium Bi-Fold Door Prices Great Dunmow
Aluminium bi-fold doors prices in Great Dunmow are impressively cost effective when you come to Dunmow Bifolding Doors.
If you would like to get an idea of costs, we have an online door designer where you can access aluminium bi-fold door prices that are tailored to your specifications.
If you like, contact us and we can guide you through the options available to create your perfect aluminium bi-fold doors in Great Dunmow. We would love to hear from you!